This is probably you
You began with passion and raw talent (which doesn't scale). Then you picked up tools and tricks (which become obsolete). Then you learned some approaches from user experience (UX) or information architecture & content strategy (IA) which have worked well over generations of technology and will continue to do so. Well done. What's next?
This is probably not you
You have integrated the world of users and the world of information. You have a future-proof set of skills and thought processes, packaged within a framework to ensure the right considerations are applied at the right stage of your design process.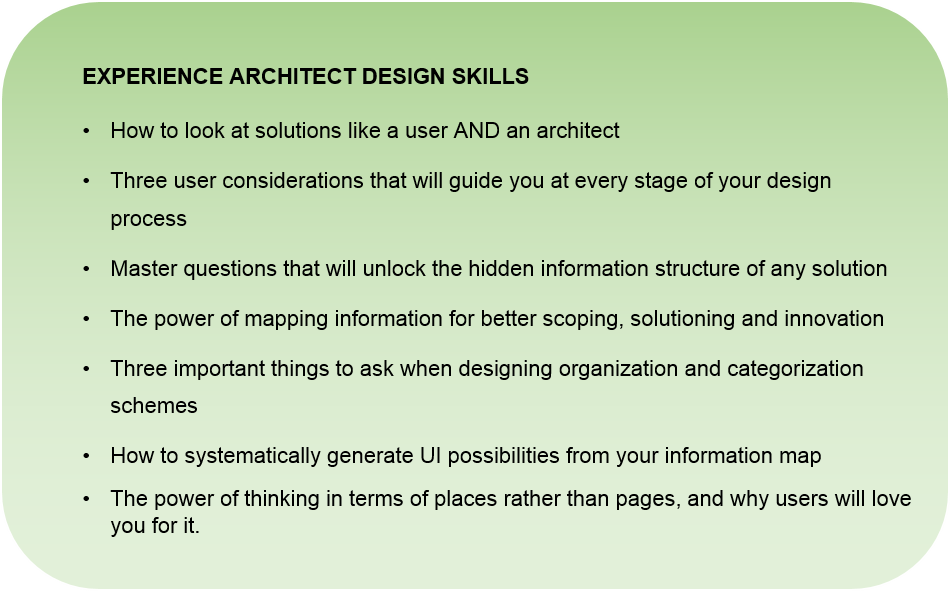 This is the direction we take you.
Curious? See how we introduce the material to our class participants
This approach may be perfect for you at this stage of your professional development, or it may not be. We don't know, but you can be sure a few minutes from now by reading the participant notes for our orientation class. You might get excited.
Want to get your feet wet? Work with our complimentary online resources
Try our complimentary online resources to get a solid taste of our approach. This is hard-core knowledge transfer, providing tools and approaches intended to give you an edge in today's competitive marketplace. Give yourself time to practice and reflect.
Really serious? Take our classroom training
The classroom training covers and extends the material in the online introduction.  The approach is highly experiential, learning powerful principles and using them to confront and mastering a series of design challenges.  It provides permanent, possibly career changing, design skills that can be applied immediately. Available in one- and two-day bootcamps, this training is offered only in Canada at this time. Contact us for details.
Contact us
We are located in Calgary, Alberta, Canada.
Contact us at theinformationartichoke@gmail.com.